Symptom
When you open a page with HTML 5 content in the browser on the client machine where Ariadne for Windows is installed, it works fine. But when presented through Ariadne HWI, it does not work.
Cause
This might occur because Internet Explorer 10 is not installed or it is not compatibly configured.
Resolution
In order to display webpage with HTML 5 content, Internet Explorer 10 must be installed and it must be compatibly configured.
NOTE: Internet Explorer 9 or older versions cannot correctly display webpage with HTML 5 content.
To make the compatibility configuration, follow these steps:
- Open Registry Editor (click Start, type "regedit" into the search bar, then select regedit.exe)
- Go to HKEY_LOCAL_MACHINE → SOFTWARE → Microsoft → Internet Explorer → MAIN → FeatureControl → FEATURE_BROWSER_EMULATION.
- Right click FEATURE_BROWSER_EMULATION and add a new DWORD (32-bit) Value: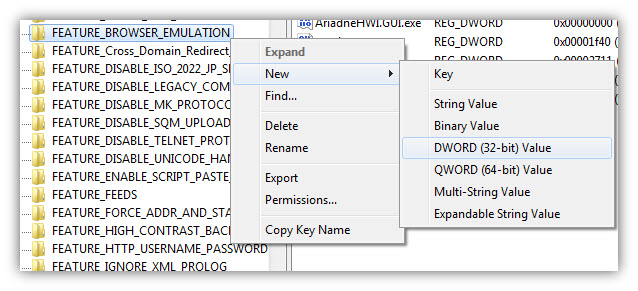 - Name this new DWORD (32-bit) Value AriadneHWI.GUI.exe
- Right click that Value and select Modify:

- The Edit DWORD (32-bit) Value window opens. Select "Decimal" and enter 11000 into Value data field as shown in the figure below:
- Click [OK] and close the Registry Editor.
- Restart Ariadne HWI to finish.
Properties
Reference: TFS #3115
Knowledge Base ID: 0029
Last updated: Feb 25, 2016