Background
This article is made to assist in setting up a Kiosk screen for the Guest registration feature of Resource Central using SureFox browser in Kiosk mode on iOS. Setting up on Android is quite similar.
Please note that are a variety of different kiosk applications that can do the same as Surefox, that might fit your needs better on solution features or prices. We are not as such recommending Surefox. Add-On Products kiosk solution has been tested on Surefox and it will fulfil the basic needs. So please do investigate the market before purchasing your kiosk application as there are many other suppliers.
Summary
Open the SureFox browser, then go to its Settings section. The following list is displayed: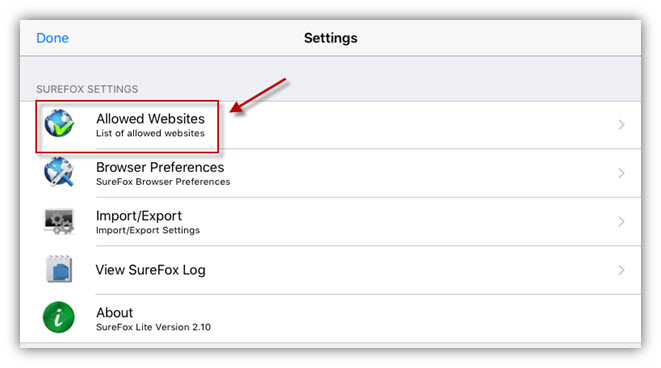 Press [Allowed Websites] as shown in the above figure, and then press [Add], the details panel of a brand new website are displayed as the following figure: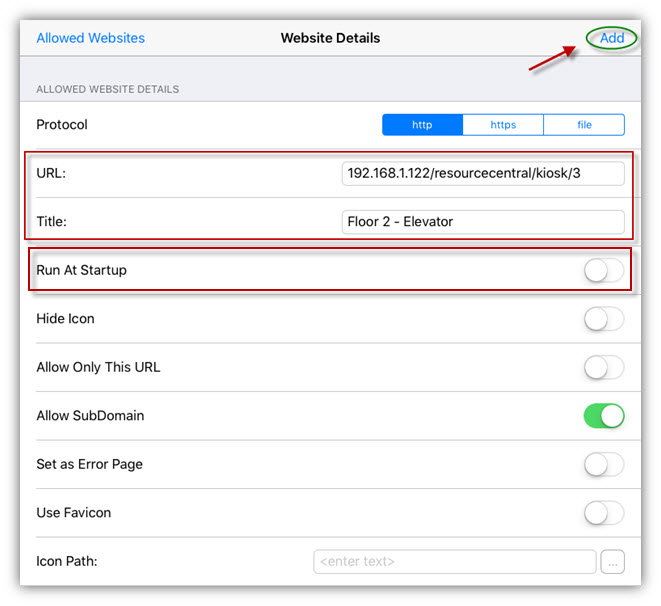 Fill in URL and Title of the website.
Note: In order to know how to compose the URL, please refer to Kiosk Administrator Guide.
Set the URL to run at start up.
Then press [Add] button, you are directed back to the list of allowed websites with the site you have just added:

Press [Settings] → [Done], you are taken back to the kiosk screen. If you have set up a screen saver this will be the first screen. If not it will be the kiosk mode screen chosen in the back end. In the example it is the kiosk mode "Meetings".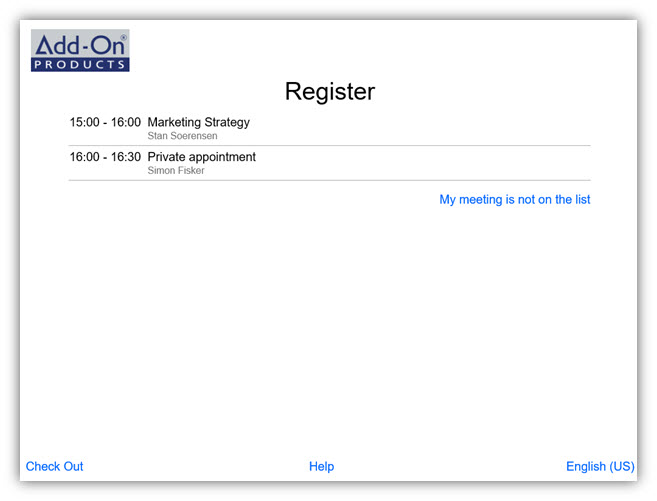 How to disable Surefox logo
Default SureFox wallpaper (white background with SureFox logo) can be replaced with wallpaper of your choice or totally disabled. Please use Wallpaper option under SureFox Settings to set wallpaper for SureFox Home Screen.
How to enable device lockdown for Surefox
For iOS devices
For SureFox to create complete device lockdown, Guided Access has to be enabled. Guided Access locks down the device to a single application mode and disables external control buttons including Home Button.
To enable Guided Access, go to General → Accessibility → Guided Access → On
To know more about Guided Access visit Apple iOS Support Page.
For Android devices
Lock down for android devices can be enabled under Surefox Pro settings – Enable kiosk mode.
Refer to this article for more details.
For Window Mobile devices
Refer to this article for more details.
For Window desktop devices
Refer to this article for more details.
Properties
Applies to: RC 4.0
Reference: TFS #120383
Knowledge base ID: 0215
Last updated: Feb 21, 2017