Symptom
When you upgrade from an older version of Resource Central (RC) to RC 3.8 SR1, the following error message shows up: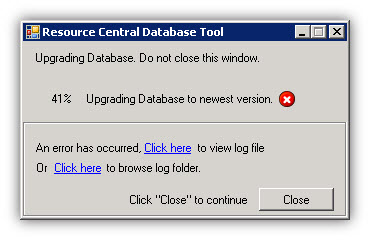 Cause
This issue only occurs with SQL Server 2008 R2.
The built-in SQL function (CONCAT) used in RC Script is introduced for SQL Server 2012 and onwards. Therefore, it is not supported in SQL Server 2008 R2.
Resolution
          

Click [Close] button on the message and keep going with the upgrading process until it is completed

          

Go to RC server, reach the folder 'UpgradeScripts' (C:\inetpub\wwwroot\ResourceCentral\DB Scripts\UpgradeScripts)

          

Copy 4 SQL scripts (in attachment) to this folder to replace the existing script files

          

Open RC Configuration Tool, click [Update Database] again, the database will be updated to the latest version.
Properties
Applies to: All versions of RC before RC 3.8 SR1
Reference: TFS #87804
Knowledge base ID: 0204
Last updated: September 14, 2016