In this release of Ariadne we have focused on improving the workflow when working with media. This involves both the way media is presented, but also how media is assigned to a specific screen.
Improved media library
With the new version of the media library we have introduced a toolbar rather than labelled buttons, and a new breadcrumb feature that makes it easier to navigate the folder structure. Media is now presented with larger thumbnails, and we have introduced a count in folders, that clearly tells you how many files is held within.

When you use the search feature to locate a specific file, then the results of the search will be presented with folder structure intact. The folders will be numbered according to the amount of files within that fits the search criteria.
A new set of icons has been introduced for the media types that do not have a thumbnail associated.
Media booking workflow
The process of adding a media to a sign has been significantly simplified, since it is now done with drag and drop. In order to improve usability we have almost doubled the size of the sign area to the right in these dialogs.
One other new feature in this context is that an already added media can be easily found by simply selecting the media on the sign section to the right. By doing this the media will automatically be located and selected in the media library to the left, whereby identifying and replacing a media becomes much easier.
Playlist editor 
In previous versions of Ariadne the playlist editor was accessible from inside the image editor tool, but now it can be launched directly from the media library. The tool has been completely redesigned in the same way as the media library, and editing a playlist is now done with drag and drop.
Default duration of the objects added to a playlist can now be set when you create or edit the playlist, but you can still edit the duration of each individual element.
New Logo association editor 
You can now easily manage associations between logo and company. A logo is associated simply by dragging the logo to the logo drop field bottom left, and this action will automatically apply the logo to any existing meeting with the associated company name.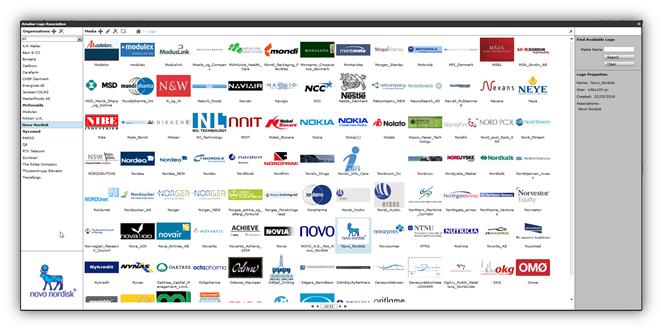 This also means that changing or removing a logo from a company will affect existing meetings, making a change much easier to implement.
Properties
Reference: TFS #76060
Knowledge base ID: 0199
Last updated: May 20, 2016