Pre-requisite
A running SQL server (version 2008 or above) with SQL Reporting Services running/enabled
A link to a report created with the SQL Server Reporting Services (SSRS) tool
Knowledge about Resource Central (RC) Database structure and how to operate the SSRS Report
Version of RC must be RC 3.8 HF 4 onwards
The report should be operated on Internet Explorer.
Setup on Resource Central
Reports in SQL Reporting Service are supported in RC 3.8 Hotfix 4 (and higher versions) with the following changes:
- Go to RC backend, create the "ReportServer.URL" parameter. Fill in the value with a link to the SSRS server.

Note: There must be no "/" character at the end of the URL in 'Value' field.
- When the parameter is created, a new option "Add URL" is added to the context menu of Reports tree.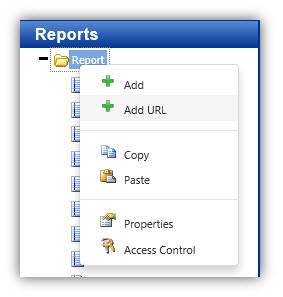 - You can create a new link to actual SQL Reporting Services report.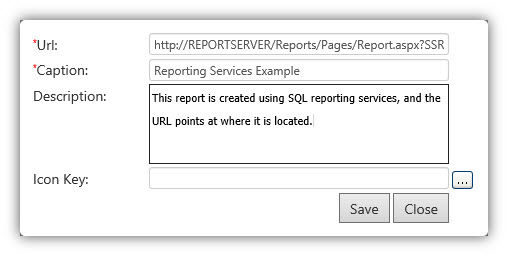 Setup to avoid navigation in SSRS report
Note: This is a global setup/change made on the Reporting services Server, i.e. if you are using Reporting Services Reports for other purposes then this changes will also be reflected.
When a SSRS report is included in Resource Central, it provides access to some other links (as in the following figure):

To avoid this navigation, follow these steps:
Open the Report Manager folder
E.g. In Reporting Services 2008 (R2), the default path to this folder is C:\Program Files\Microsoft SQL Server\MSRS10_50.MSSQLSERVER\Reporting Services\ReportManager
Open the Styles sub-folder
Back up the file "ReportingServices.css", then open it (Notepad is recommended to open this kind of file)
Look for the class "table.msrs-topBreadcrumb"
Add "display:none" style to this class as in the following figure:

SSRS report sample in RC
When you click in the report link, the report from SQL Reporting Services is rendered in RC system: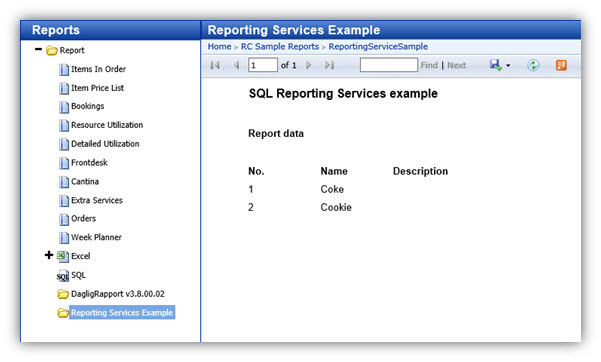 Disclaimer
SQL Server Reporting Services (SSRS) is a third party tool provided by Microsoft. Therefore, support of how to install and operate SSRS to produce reports for Resource Central is out of the scope for our Maintenance agreements (SLA's) – both Standard and Gold level.
Properties
Applies to: RC 3.8 Hotfix 4 and higher versions
Reference: TFS #60556
Knowledge base ID: 0184
Last updated: Feb 23, 2016