Symptom
When you log in Resource Central (RC) backend, the following error occurs:

Cause
This issue occurs because RC is installed on Windows Server 2008 R2 RTM. Some Internet Information Services (IIS) 7.5 handlers of this server edition cannot handle requests whose URLS do not end with a period (e.g. http://add-on-company.com/rc38/admin/default).
Note: The error is only encountered in Windows Server 2008 R2 RTM. There are no problems with higher versions of Windows 2008 R2.
Workaround
Option 1: Upgrade to Windows Server 2008 R2 Service Pack 1 or higher versions.
Option 2: Add and attribute to web.config file
- Reach web.config file at: C:\inetpub\wwwroot\ResourceCentral (by default)
- Open the web.config file with Notepad (recommended)
- Add runAllManagedModulesForAllRequests="true" to modules section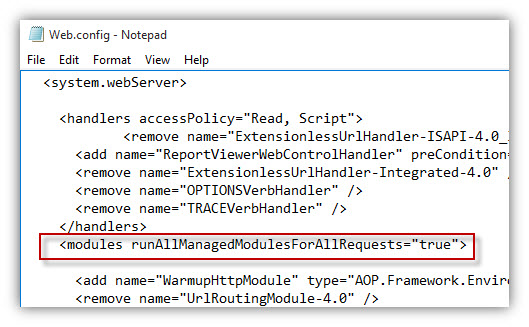 - Save the file.
Properties
Applies to: RC 3.8
Reference: TFS #42199
Knowledge base ID: 0171
Last updated: Feb 23, 2016