Symptom
The instructions can be seen from the following example:
1. Create 3 Outlook profiles: 2 profiles with the same SMTP address: AA@add-on.com, the other with the SMTP address: XX@add-on.com.
2. Create 2 signatures and deploy them to 2 emails: AA@add-on.com and XX@add-on.com.
3. Start Outlook with the XX@add-on.com profile.
4. Open Signature list form (Signatures and Stationery).
5. You can see that the signature deployed for AA@add-on.com is still available: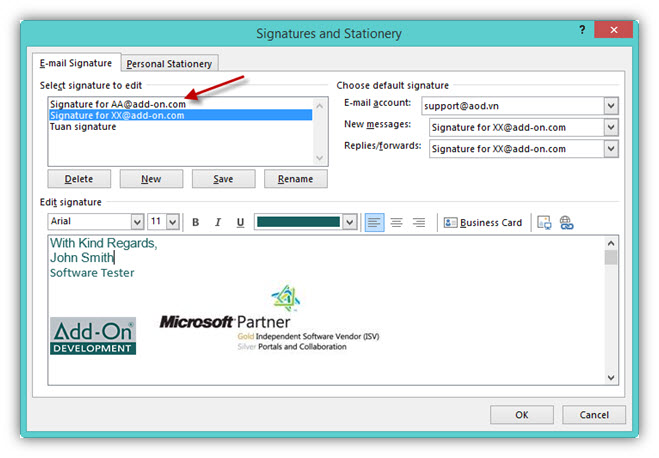 Meanwhile, it is expected that only signature for the selected profile (XX@add-on.com) is available.
Cause
Signatures in Outlook are not stored separately but in the same folder. It is:
C:\Users\\AppData\Roaming\Microsoft\Signatures (in which is name of the user).
So any profile in Outlook can see the signatures stored in this folder.
Resolution
This issue comes from Outlook and it will be reviewed when a new version of Outlook is released.
Properties
Applies to: All versions of MC
Reference: TFS #28383
Knowledge base ID: 0153
Last updated: Feb 24, 2016