Kiosk solution
The biggest change in this service release is a major improvement of the kiosk feature in Resource Central focusing on higher layout configurability and a better user experience for your visitors.
The kiosk can be displayed on IOS, android or windows tablet.
New following features have been added to the kiosk
Screen saver
A screen saver can be added as an image that the kiosk will return when inactive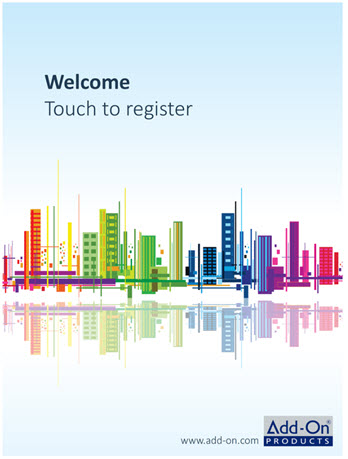 Improved layout configuration options
The configuration options in setting up the kiosk layout are much more customizable. This will make it much easier to setup a kiosk screen to fit your company's layout standards or display device. Height and wide can be adjusted to fit the screen you are using. Screen content like buttons, headers, lists and messages to the visitor can be adjusted by setting font, size or color. And if you do not like the default wording of each screen for buttons, headers and messages, just change it to phrasings that better suit your organization.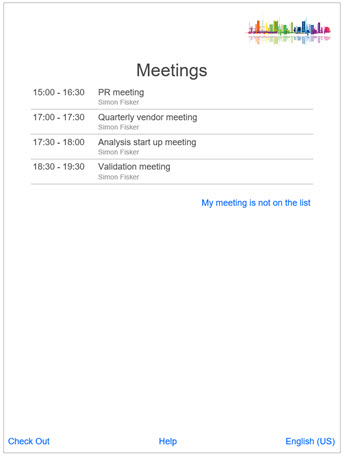 Overall the new kiosk configuration is extremely flexible when it comes to creating a layout that will fit your organization.
Self-registration option
When for example unexpected visitors arriving at your company, they can now register themselves as arrived. The visitors fill in their own information such as name, email or phone number and chose an employee that they are visiting from the Active Directory. A notification email is send to the employee informing on the arrival at the specific location and the visitor is informed to wait for the employee.
Multiple language option
The kiosk can be used in any of the languages supported in Resource Central. You can also easily save translations to any of your customized text displayed in the kiosk.
The kiosk is set up with one default language and the visitor can then in the kiosk chose his or her preferred language.
Check out
Finally, at departure, the visitors have the option to check themselves out when leaving using either badge number or email.
Polycom Video Conferencing Integration
Another exciting feature in Resource Central is automatic integration with Polycom's video conferencing system established as a result of a Partnership agreement between Polycom and Add-On Products.
When a meeting organizer schedule a meeting where the rooms or are equipped with Polycom equipment, the connection will now automatically be established. This will remove the technical efforts of setting up the connection manually. Other end points and audio calls can also join the video call. Conference-ID and other dial-in details can be added automatically into the Outlook meeting invite.
The solution can also be found in Resource Central 3.8.0009.0007 Service Release 2.
More information on the Polycom solution can be found in the release package or on our webpage in the "Polycom user guide" and "KB 0214 - System requirements for Polycom solution".
User experience improvements
Several features have had smaller correction to enhance the user-friendliness and screen design in general.
Booking manager: the filter and the list/calendar view functions have been included as buttons in the top to make the calendar view bigger.

Default view – it is possible to set a default view in Resource Central e.g. "Orders" by right clicking on the icon of the view that you want to choose as default view. When set Resource Central will always start in the default view.

Delete list headers like "Reservation list" to reduce redundant information in the user interface.

Editable start time of meeting in Resource Finder. Start time can now be set by typing in e.g. 14.03

Inclusion of buffer time display in Booking manager