Predefine add-in configuration properties
Property Name

Value

Note

RESOURCECENTRAL_URL

Example:

http://RCWebServer/ResourceCentral

URL address of Resource Central backend 

RC_WEB_VERSION

·      0 = Any version higher than RC 3.8 HF6

·      1 = RC 3.7 VTC

·      2 = RC 3.7.10

·      3 = RC 3.8 RTM and Hotfix 1/2/3/4/5 (This is default value)

·      4 = RC 3.8 SR and HF6

Define RC backend compatibility for add-in

ALLUSERS

1

Use this property with value "1" if Add-in is deployed for All users (per machine)

DEFAULT_LOCATION

ID of location tree in RC (e.g. ID of root location is 47)

This property is used to set a default location for the first use of ResourceFinder

UPDATE_SETTINGS

·      0: The function is turned OFF. Add-in will not update "ResourceCentralURL" and "RCVersion" in Settings file

·      1: The function is turned ON, Add-in sends request to backend web service and updates both "ResourceCentralURL" and "RCVersion" (This is default value)

·      2: The function is turned ON, Add-in sends request to backend web service and updates "RCVersion"

·      3: The function is turned ON, Add-in sends request to backend web service and updates "ResourceCentralURL"

Control the update settings function in working with back end web service
Follow these steps to create a TRANSFORM file:
1. Run Orca tool, from File → Open → Select the add-in installer (.msi) file. Then at the toolbar, select Transform → New Transform.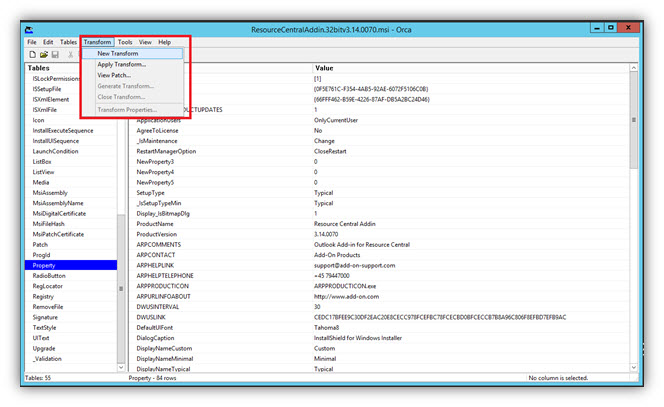 2. Click on the Property table on the left menu, its data will be loaded on the right pane
3. Right click on the right pane and select "Add Row"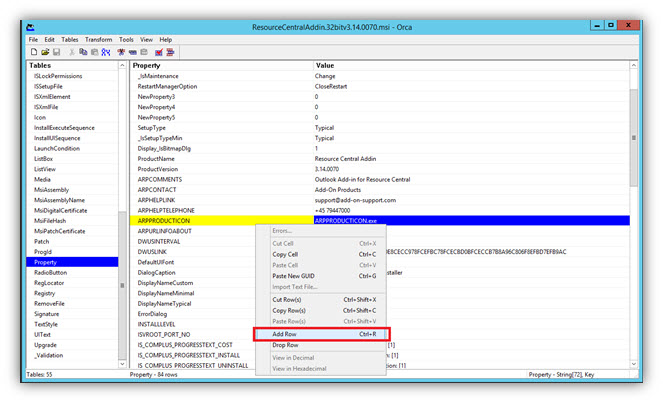 4. On the dialog, enter the values for "Property" and "Value" fields then click "OK". The "Property" field must be "RESOURCECENTRAL_URL". The "Value" field is your resource central URL starting with "http://" or "https://".
For Example: http://RCServerName.domain/ResourceCentral
5. Modify RC_WEB_VERSION to correspond with RC backend version
Property Name

Value

Note

RC_WEB_VERSION

·      0 = Any version higher than RC 3.8 HF6

·      1 = RC 3.7 VTC

·      2 = RC 3.7.10

·      3 = RC 3.8 RTM and Hotfix 1/2/3/4/5 (This is default value)

·      4 = RC 3.8 SR and HF6

Define RC backend compatibility for add-in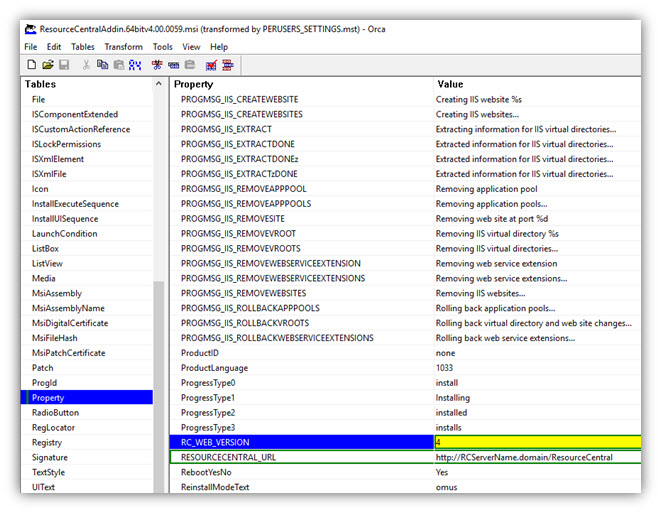 6. If you want to deploy add-in per user, ignore this step. If you want to deploy add-in per machine, add new property "ALLUSERS" with value being 1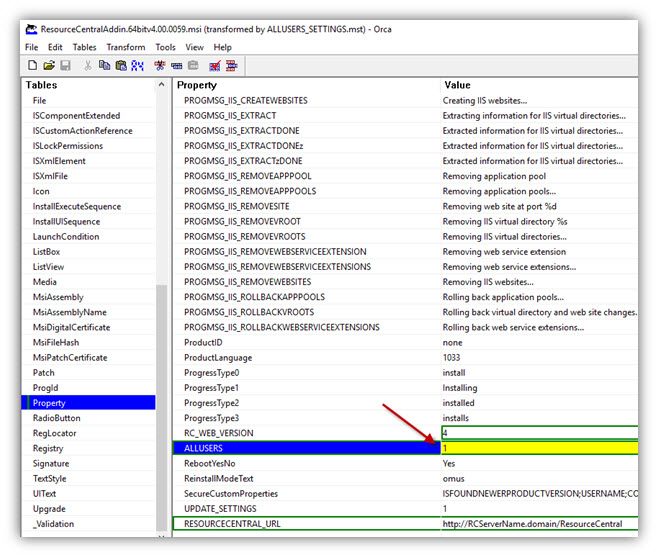 7. On the toolbar, select "Transform" → "Generate Transform…" and then save the .MST file and close Orca Tool
Properties
Reference: TFS #94950
Knowledge base ID: 0209
Last updated: Sep 12, 2017